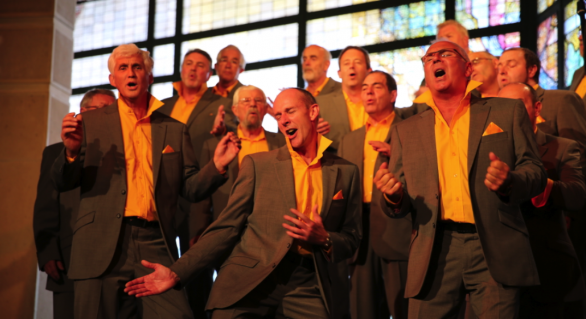 (Winner of UK Best Small Choir at the Cornwall International Male Voice Choral Festival)
Synergy is a close-harmony male voice choir – the only such choir in South Wales.
We differ from a traditional male voice choir in our approach,
our choice of songs and sound.
We sing "a-capella" (unaccompanied), producing truly beautiful music.
Our ability to charm & delight an audience with our singing is due to a number of factors….
- We are led by our talented gold-medallist Musical Director: Martin Flory and Associate Musical Director Andrew Walker who select our music and teaches it with conviction, aiming at perfect harmony.
- We sing a range of songs from ballads, pop, swing to laugh-out-loud.
- We love what we do – we're infectious!
To sing for you, a few requests….
- We sing without amplification, so indoors is best.
- Some of our songs are quiet (gorgeous) ballads, so we prefer not to sing whilst you are eating a meal.
- We require a room to warm-up our voices, prior to "hitting the stage"
- In the event of cancellation of a booking, any unrecoverable expenses would need to be charged.